Books
Word Forge Books prides itself on bringing you the world through words, with titles that intrigue, explore and celebrate what's wondrous about the world. In this too-busy world that flies by so fast we miss half of it, give yourself the gift of time with a good book. Fresh ideas from a unique perspective, fictional characters you'll come to know and love—and all in a small, portable package that's ready to use anywhere—no batteries, cords or earphones required!
By M.A. Shafer
Hobby How-To (QuickStart Guide Series)
Handy 5 x 8 pocket size softcover

Film-laminated cover for extra water resistance and durability

108 pages
9 illustrations
Bonus Resources Section, Fully Indexed
ISBN 

978-0-9771329-8-0

Sweet Myrrh Books imprint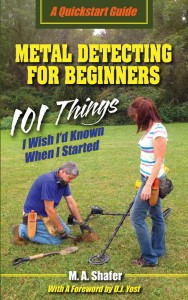 NEW TO METAL DETECTING?
Want to start hunting without a long learning curve?
This Quickstart Guide will have you out in the field and hunting productively in just a few hours!
This isn't an exhaustive guide to everything you'll ever want to know about metal detecting. It's not a complete course in treasure hunting. It's a quick read from author M.A. Shafer, a detectorist who's been swinging a machine long enough to know how to do it successfully, but who hasn't forgotten what it feels like to be just beginning and needing a place to start smart.
You know you're just itching to get your detector out in the field to find all kinds of cool stuff, but who wants to wade through a thick book or watch a hundred videos first? If you have a detector and a few simple accessories, you can start reading this handy little Quickstart Guide while you eat breakfast, and be digging your first target before lunch! Then use the resources provided to learn how to identify your finds. If you don't already have a detector, this guide will help you know what to look for a buy smart.
A Foreword by popular veteran metal detectorist D.J. Yost of DJDigs.net sets the stage for this QuickStart Guide. Everything you need to get out there for a productive hunt is between these two covers—101 proven tips from the author's personal experience with the equipment:
Finding hunting spots

Staying safe, comfortable and legal

The metal detecting culture and its people

A glossary, so you can speak the language of passionate diggers.

Plus Bonus Material: A list of the same resources the author uses to stay current in the hobby!
So lose those newbie blues: Read this QuickStart Guide and get out there in nature, for some great exercise and memorable days of saving history. Happy hunting!
$7.95
By Mary A. Shafer
Edited by Rebecca Valentine
Revised Third Edition

Historic Documentary – Narrative nonfiction
6 x 9 Softcover / 470 pages
126 historic photos, 32 maps, charts & diagrams
Informal Notes section, extensive bibliography, fully indexed
ISBN 978-09771329-6-6
Word Forge Books imprint
August 18-20, 1955: Three terrifying days and nights still remembered with awe in the Delaware River Valley. Record-breaking rainfall—almost two feet in some places—from twin hurricanes abruptly ended a withering drought, but the relief was short-lived. It was overshadowed by terror and destruction that tore away bridges and snatched people, still sleeping, from their beds in the middle of the night. The only book devoted solely to this record-setting flood on the Delaware River and many of its tributaries, this comprehensive documentary covers the most heavily affected areas on both sides of the river between Port Jervis, New York and Trenton, New Jersey. Author Mary A. Shafer interviewed more than a hundred survivors and eyewitnesses to bring the events to chilling life in this definitive account of a tragic weather disaster that changed life in the Delaware Valley forever. Learn more…
AWARDS
Finalist, Best History Title and Best Regional Nonfiction – 2011 National Indie Excellence Awards
WINNER: Notable Book, Reference category – 2006 Writers Notes Magazine Annual Book Awards
Finalist, U.S. History and Nature Writing categories – 2006 USABookNews Annual Awards competition
$19.95
Contemporary nonfiction: An anthology of 11 true-life stories
WINNER: 2010 Muse Medallion – Cat Writers Association
Edited by Mary A. Shafer
Nonfiction essay anthology
6 x 9 Softcover
128 pages, 25 photos
ISBN 13: 978-0-9771329-2-8
$12.95
Everyone loves a story about well-muscled retrievers barreling after thrown balls or elegant, long-haired cats commanding the attention of all in a room. But what about those less fortunate companion animals, whose experiences have robbed them of the wholeness of their "perfect" pet peers? After all, it's easy to be happy when life has been safe, kind and protected, but it takes a special kind of critter to triumph over brutal circumstances that would make most people give up. In Almost Perfect, eleven writers share true tales of courage, ingenuity, perseverance and inspiration on the part of companion animals that have become disabled either through hereditary/congenital conditions or injury. Meet Simon, a three-legged barn cat whose indomitable spirit and unquenchable purr propels him through an unbelievable string of difficulties. And Cagney, a paraplegic rat who serves as muse to a surprised grad student. Then there's Pink, a Mexican Hairless dog with remarkable healing powers.
You may laugh, you may cry, but you'll certainly never forget these heartwarming stories of animals who have overcome physical limitations to live happy, productive lives that enrich those of their human companions. Learn more…

By Betty Kerr Orlemann
WINNER: 2008 "IPPY" Silver Medal – Best Regional Fiction
5-1/2 x 8-1/2 Softcover
336 pages
ISBN 13: 978-0-9771329-1-1
ShadowDance Press imprint
$12.95
FIRST TITLE IN OUR HATTIE FARWELL MYSTERY SERIES
With the single impact of a hit-and-run incident, octogenarian Hattie Farwell is forever jolted out of a comfortable retirement in rural Bucks County, Pennsylvania, and into the world of high-stakes political intrigue when her best friend since childhood is killed leaving a concert in nearby Philadelphia. Suddenly, a grieving Hattie is drifting amid a web of deceit and the uncomfortable dynamics of the family her friend left behind.
Meanwhile, the incident begins to look less like an accident and more like murder. But who would kill sweet, gentle Annie…and why? Once Hattie convinces the police to investigate, their efforts turn up more questions than answers, and her patience wears thin. Finally, aided by Annie's two granddaughters and her own huge dog, Wolf, Hattie sets out to pursue her own ideas about what might have happened to her dear friend.
Between Wolf's nose for trouble and Hattie's determination to solve the murder no matter what it takes, she finds herself navigating an unsavory—and increasingly dangerous—path to the truth. Tag along as America's latest unlikely sleuth uncovers the ugly underside of political campaigns, marital infidelity, and more than one old family secret that someone will stop at nothing to keep hidden. Learn more…
By Betty Kerr Orlemann
5-1/2 x 8-1/2 Softcover
176 pages
ISBN: 978-0-9771329-4-2
ShadowDance Press imprint
$12.95
SECOND TITLE IN OUR HATTIE FARWELL MYSTERY SERIES
Life's been quiet for Hattie Farwell and her huge dog, Wolf, since the loss of Hattie's friend Annie. But things are about to heat up in Plumsteadville.
Forced to sell 100 acres of her property when money gets tight, Hattie's sensitive to who might move into the new development built there. But she quickly strikes up a warm friendship with young mother Donna Atkins. Donna's two lively girls bring the energy of youth back into Hattie's world, and Wolf finds them wonderful playmates. Hattie and Wolf soon become very fond of the little family of new neighbors.
Before long, though, strange events have Hattie asking some disturbing questions. Who is the bearded stranger who seems to be stalking her new friends, and what could he possibly want? Is there something darker lurking beneath the surface of her new neighbors' sunny life? And could all this have anything to do with the strange rash of unexplained murders taking place around Hattie's normally peaceful home?
Whatever's going on, Hattie doesn't like the strong feeling that the lurker means them harm, and Wolf seems to have the same idea. Follow our sleuths through the pulse-pounding climax that turns the woods of Bucks County into a frightening place! Learn more…
Hurricanes and the Middle Atlantic States
By Rick Schwartz
416 pages
200+ historic photographs and maps
8.5 x 11 Hardcover
ISBN 13: 978-0-9786280-0-0
Black Diamond Publishing
$27.95
The first book-length reference that collects the MidAtlantic region's surprisingly violent 400-year recorded hurricane history. It features many human interest stories detailing how Americans past and present have dealt with natural disasters. An unforgettable collection of storm tales told in chronological sequence. More than 80 profiles of significant tropical cyclones dating back to Jamestown, are presented in short sections, making convenient reading for today's busy lives. Though the book focuses on Delaware, Maryland, New Jersey, Pennsylvania and Virginia, you don't need to be a weather geek or an East coast resident to enjoy this fascinating book. Written for a general audience, Hurricanes and the Middle Atlantic States explores lessons learned and the challenges ahead as our planet's climate changes. This accessible title provides a window to the region's hurricane past, helping everyone understand the role tropical cyclones have played in our nation's history, and serving as something of a meteorological crystal ball to its future.
The Artist's Wife
By Betty Bowers
Memoir nonfiction
210 pages
5-1/2 x 8-1/2 Softcover
ISBN: 1-930596-36-7
The Guest Cottage


$14.95
An inside view of an artist's life and a behind-the-scenes look at a thriving creative community, The Artist's Wife also explores issues of personal growth, raising creative kids and living in a working artist's household. These brief essays, while personal and reflective in character, are written with a light hand. Though the book is focused on family life in the heart of the Door County, Wisconsin, arts community, anyone who summers at a cottage anywhere will connect with the reflections of The Artist's Wife.
All the wild and lovely spots where tourists like to go face similar issues of increasing density of use, abuse of resources and changing the face of local culture. From Cape Cod to the Oregon coast, from New Hope to the Northwoods, the same issues resonate: preserving the fragile ecology while maintaining the distinctive features that attracted the visitor in the first place, and honoring it all through the artistic life. An inspiring affirmation of the importance and healing qualities of following the creative urge.
Rural Routes & Ruts: Roaming the Roads of Rural Life
By Scott Schultz
Essays, nonfiction
160 pages
Profusely illustrated in color
10 x 7 Softcover
ISBN-13: 978-1930596-30-6
The Guest Cottage


$16.95
The meaning of rural living is changing rapidly in America. What once meant farming and living off the land may now mean "McMansions" in a subdivision. Writer Scott Schultz captures the essence of the vanishing rural lifestyle through stories about the family farmer, and his struggles and triumphs through the years. Many of Schultz's stories center around his family farm, Veefkind, its history and the many faces that have occupied this special corner of the world. Schultz's heartwarming stories will strike a chord in the heart of those who have chosen to make a living off the land. It will appeal also to those who wish they were farmers, who've dreamed about a life close to the land, and those who once did but no longer can.