Newsroom
Welcome to the Word Forge Books Online Press Room. Each of our titles has its own website and press kit:
ALMOST PERFECT: Disabled Pets and the People Who Love Them
MISSION: MURDER
DEVASTATION ON THE DELAWARE: Stories and Images of the Deadly Flood of 1955
Press Releases
An Imprint of Word Forge Books
Phone 610.847.2456
Web www.wordforgebooks.com
Email: publicity AT wordforgebooks.com
NEWS – For Immediate Release
Contact: Mary Shafer, Publisher
Phone: 610-847-2456 • publicity AT wordforgebooks.com

Almost Perfect Entertains, Inspires:
New Anthology Reveals Healing Power of Handicapped Pets
FERNDALE, PA – Word Forge Books, an independent publisher located in upper Bucks County, has released its first nonfiction anthology, Almost Perfect: Disabled Pets and the People Who Love Them. The 128-page volume collects the works of eleven writers from three countries, who share their true-life tales of the wonder brought into their lives by disabled companion animals. It is being released under the publisher's Enspirio House imprint, and was recently featured in Publishers Weekly, the industry's trade journal.
Readers of Almost Perfect will follow the lives of nearly a dozen amazing animals who—through birth or injury—have been rendered less than perfect, and their transformative effect on the humans who love and welcome them into their hearts and homes. Through many different writing styles—some witty, some whimsical, others reflective but all engaging—these stories allow readers to share the immeasurable rewards these people have found.
The book is the brainchild of and is edited by Ferndale author Mary Shafer, whose blind cat, Idgie, is featured in one of the essays. "I am constantly inspired by her courage and indefatigable spirit," Shafer says of the small, gray cat who was born without eyes. "So many people feel sorry for her, but that's just the point: They shouldn't. She's never had eyes, so she doesn't miss seeing. She has no idea she's missing anything, and so to watch her squeeze every ounce of joy out of every day really makes you stop and re-think things when you're tempted to feel sorry for yourself. I wanted to share that inspiration with others, and that's how the book came to be."
The book shares the courage of Colbi, a blind Alaskan Husky, who trades a hellish life in a puppy mill for the challenges of life on a farm. Inspiration comes from Ruby, the irrepressible Labrador-Doberman mix who adapts to a devastating muscle-eating disease by learning to "roll with the punches." Cagney, the paraplegic rat, struggles along with his human "mom" through her Master's thesis. The joyous and graceful Tux, a handsome black-and-white cat, navigates a life of almost complete paralysis. Almost Perfect inspires through these and more true, heartwarming stories of animals who have overcome physical handicaps to share happy, full lives with their human companions.
The book is available through the publisher's website at wordforgebooks.com or by calling 610-847-2456.
For more information about the book, including high-resolution photos and author biographies, visit the "Almost Perfect" press room page.
# # #
Release Date: August 2008
Retail: $12.95
Paperback: 272 pages, 5.5″x8.5″
ISBN: 10: 0-9771329-1-9
ISBN 13: 978-0-9771329-1-1
Published by ShadowDance Press,
an imprint of Word Forge Books
Mission: Murder
First in the Hattie Farwell Murder Mystery Series
With the single impact of a hit-and-run incident, octogenarian Hattie Farwell is forever jolted out of a comfortable retirement in rural Bucks County, Pennsylvania, and flung into the world of high-stakes political intrigue, when her best friend is killed leaving a concert in Philadelphia.
Suddenly, a grieving Hattie is drifting amid a web of deceit and the uncomfortable dynamics of the family her friend left behind. Meanwhile, the incident begins to look less like an accident and more like murder. But who would kill sweet, gentle Annie…and why? Once Hattie convinces the police to investigate, their efforts turn up more questions than answers, and her patience wears thin.
Finally, aided by Annie's two granddaughters and her own huge dog, Wolf, Hattie sets out to pursue her theories about what might have happened to her dear friend. Between Wolf's nose for trouble and Hattie's determination to solve the murder no matter what it takes, she finds herself navigating an unsavory—and increasingly dangerous—path to the truth.
Tag along as America's latest unlikely sleuth uncovers the ugly underside of political campaigns, marital infidelity, and more than one old family secret that someone will stop at nothing to keep hidden.
Word Forge Books
Phone 610.847.2456
Web www.wordforgebooks.com
NEWS – For Immediate Release
For more information or to book personal appearances, contact:
Mary Shafer, Author and Publisher at 610-847-2456 or floodbook AT thewordforge.com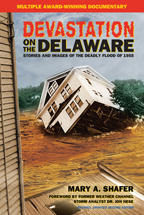 Local Author Honored by National Indie Excellence Awards;
Contest recognizes outstanding independently published books
Ferndale, Pa. – Devastation on the Delaware: Stories and Images of the Deadly Flood of 1955 by Bucks County author Mary A. Shafer has been selected as FINALIST in the History and Regional Non-Fiction categories of the 2011 Indie Excellence Award.

The Indie Excellence Awards are reserved for the "best of the best" American books published in various genres. The criteria for recognition are stringent and include overall excellence in presentation. This award celebrates the highest achievements in independent press and self-publishing, a sector of the industry that has grown exponentially in recent years.
Winners and finalists were announced on Sunday, May 15. Here's a complete list of the honorees.
Devastation on the Delaware is in its second edition, released last August on the 55th anniversary of the flood that is its subject. The first edition was originally published in October, 2005, and sold out its entire first printing of 2,500 copies in 42 days. It has currently sold in excess of 5,500 copies and continues to be a top seller for Word Forge Books, based in Ferndale. The book has previously won recognition in the U.S. History, Nature Writing and Reference categories of two other national book competitions. It can be purchased at the Doylestown Bookstore, Farley's in New Hope, the Homestead General Store in Upper Black Eddy and in Frenchtown, N.J. at the Book Garden. It can also be purchased from the publisher's website at 55flood.com or from Amazon.com.
Shafer is a full time freelance writer, teacher, speaker and author of three other published books. She also serves as publisher at Word Forge Books, and is current president of the MidAtlantic Book Publishers Association.

# # #
Download a high-resolution color image of the book cover.
(Please be patient with slow download of these large images.)
# # #
Release Date: July 2010
Retail: $12.95
Paperback: 272 pages, 5.5″x8.5″
ISBN: 10: 0-9771329-1-9
ISBN 13: 978-0-9771329-1-1
Published by ShadowDance Press,
an imprint of Word Forge Books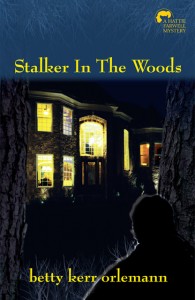 Stalker In The Woods:

Publisher Announces Release of Second Hattie Farwell Mystery Title
Ferndale, Pa. – The forests of upper Bucks County are the setting for "Stalker In The Woods," the second title in the Hattie Farwell mystery series by Pipersville author Betty Kerr Orlemann. Publisher and editor Mary Shafer of Word Forge Books announces that the book will be released at this year's Tinicum Arts Festival on July 10-11, where Orlemann will be featured and signing her books at the Author Table.
"We're very proud to be releasing Betty's latest, again under our ShadowDance Press imprint," Shafer says. "Last year, Betty's first novel in the series, Mission: Murder, won a coveted Silver Medal for Best Regional Fiction from the prestigious Independent Publisher ("IPPY") Book Awards. It's an impressive debut for a first-time author, and we're really proud of Betty's accomplishments in representing our publishing house."
The first book explained how protagonist Hattie Farwell—Orlemann's alter-ego, who also lives in the Bucks County woods—came to solve her first murder mystery, with the aid of her sidekick and constant companion, Wolf, a huge Irish Wolfhound hybrid.
This second book in the series follows Hattie and Wolf as they first meet, befriend and ultimately protect a young family that's just moved into the new development built on land Hattie was forced to sell when financial hardship loomed.
"Sadly, it's a story not unlike what's happening to many Americans today," says Orlemann. "Only this one has a twist!"
For anyone who enjoys "cozy" mysteries, Hattie Farwell and Wolf will be welcome additions to the ever-expanding cast of literary characters working through puzzling acts of crime. Learn more about the new book or place an order at stalkerinthewoods.com. Orders may also be placed by phone at 610-847-2456 or toll-free at 888-320-WORD (9673).
Betty Orlemann is available for speaking appearances and author signings. Contact her directly at 610-294-9225 or author AT bettyorlemann.com.
# # #